Workshops and media training sessions get great client reactions
"Thank you for providing the media training session yesterday for my Entrepreneurs Organization group. The group felt that it was beneficial and suggested doing one or two areas in more depth if we were to do again. All positive comments on the training and would allow more time in future. Thanks again, your preparation was appreciated and helped to make it a successful event!

— Beth Kloos, The Entrepreneurs Organization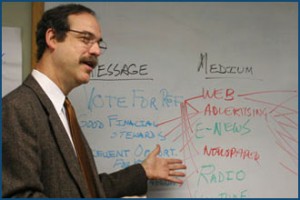 Social Media workshops, speaker training, brainstorming sessions
We'll come to your site, armed with an LCD projector and a customized, interactive presentation on any of these topics (and more). Sessions can last anywhere from 45 minutes to a half day (or more!).
Contact Jonathan Lehrer Communications for info on options and pricing for media training, speaker preparation, brainstorming and more.
Media Training: Are media reporters out to get you? We'll explain their motives and prepare you to be interviewed on TV. Workshop includes sample media relations scenarios, message development and practice sessions.
Crisis Communications: In the event of an emergency, you don't want to come across like that Utah mine guy, do you (watch him on YouTube)? Workshop includes how to create a crisis communications plan, what could become a crisis in your business or organization, how to assemble a crisis team and how to respond.
Speaker Training: For those who fear public speaking worse than death itself. Training session covers how to speak in threes, using body language, handling questions that you don't want to handle and working with PowerPoint.
New Media: Curious about Facebook, Wikipedia and YouTube, but afraid to ask your kids for a demo? We'll show you around the places on the Internet where you've been afraid to venture. (Read more…)
Web Site Review: It's the "big screen test." We'll project your site (and others) on a huge screen for you and a roomful of your closest friends. We'll critique the site as a group and help you get started on a redevelopment plan. This is a great workshop for people from different organizations meeting together to get feedback on their sites. (Read more…)
Communications Audit: We'll bring the sticky flip-chart paper and the Sharpies. You bring your newsletters, brochures, handouts, ads and an Internet connection to review your Web site. We'll meet with your team to review whether all this stuff is working for you. Don't forget to bring a copy of your organization's Mission Statement. (Read more…)
Brainstorming: The high-priced agencies call it "ideation," but the concept is as old as the human cerebrum. Branding, new business development, customer relations problems, employee communications and public relations challenges. Give us a half day and a whiteboard, and we'll help your team solve all the problems of the world.
---
More Client Reactions to Communications Workshops
"Outstanding work today! That was just what I needed, and you delivered. Several people made a point of telling me how much they enjoyed today's session. They liked your presentation, both in content and execution. This included the individuals who last year asked for this specific workshop and told me today it was well worth coming to Chicago a day early. And thank you for sticking around and providing helpful input during our afternoon discussion."

— Communications Campaign Manager,
Chicago-Based National Association
Thank you so much for coming today and giving such a wonderful presentation at our professional staff development program. You were funny, clear, and thorough, and the evaluations certainly reflected that. Nearly everyone gave the program fours or fives on a scale of one-five, and several people remarked what an excellent speaker you were.

— Rachel Sacks. Community Outreach Coordinator
Chicago Center for Jewish Genetic Disorders